Every once in a while, it's good to change your view. It gives you a new perspective, opens up opportunities, and facilitates growth. At Murray, the new view comes as we announce a fresh look and brand identity as a part of our ongoing development as an ESOP and agency. As we continue to grow in our ability to help clients anticipate and prepare for a more secure future, we have refreshed our brand identity to better reflect who we are today, and where we want to be tomorrow.
Our new name and look come from months of research conducted among our internal team and leaders, and our clients. We sought to bring out the best of what it means to be a part of Murray, the truth of our service to our clients, and the collective personality of our brand. Who we are isn't changing. Our values aren't changing. The services and care we provide for our clients aren't changing. We have the same focus: the new brand simply brings a different view of our story.
Our story begins with a prominent Lancaster County entrepreneur and community leader, Paul Murray. From the very beginning, he wanted to provide his clients with a diverse spread of products and services. He believed that treating people fairly meant creating custom plans to perfectly fit the person or project they needed to protect, even when that meant creating and explaining highly technical plans.
That story continues in Murray today. Our communities have expanded, the projects we protect have grown, and the risks and regulations have become more complex. We have grown and evolved by strategically adding products and seasoned professionals to advance our ability to develop exceptional choices and smart, tailored plans.
In our growth, and in our addition of services and capabilities, we had to be mindful not to complicate our story. Internally, we know all we have to offer – in terms of dedication, depth of capabilities, innovation, culture – but articulating who we are and the significance of what we do was challenging. Our brand needed to simplify and evolve so we could better tell our story.
Through our research, we were reminded of what makes Murray special to those who know and trust us. One of the key things we noticed is that in all of our interviews and responses to surveys, people kept referring to us as "Murray," instead of "Murray Securus." It was like being on a first-name basis with everyone. In this process of simplifying our brand, we have decided to embrace the name given to us by all of you: Murray.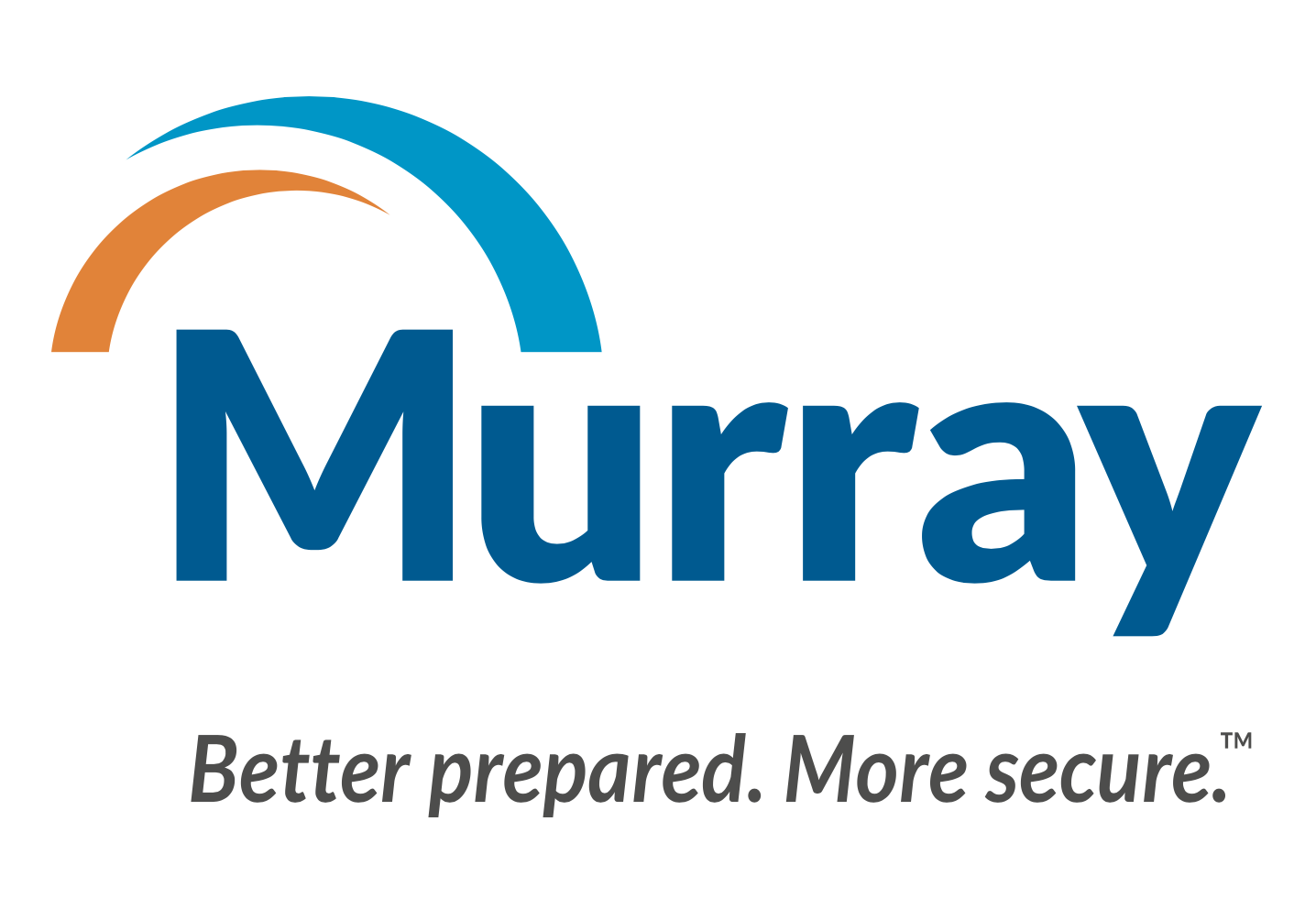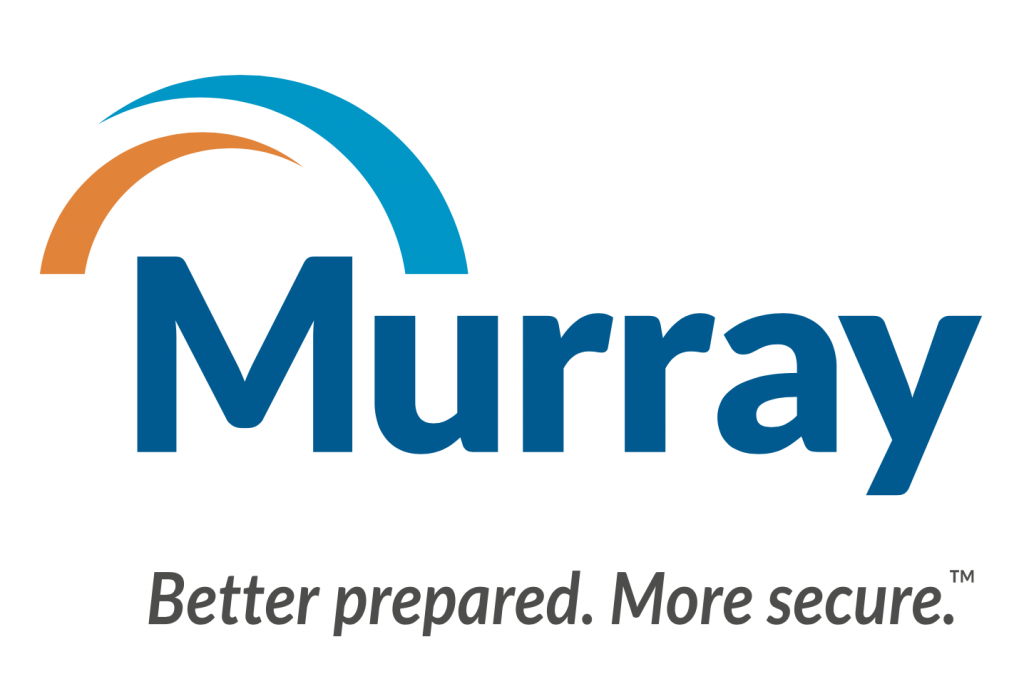 To honor our rich history and deep roots, we retained the logo's core element, the arches that represent our very first bond issued for the construction of the Veteran's Memorial Bridge. We've added bright and vibrant colors to the logo and our brand colors to communicate the energy and dedication we bring as a team here at Murray.
Our new positioning line – Better prepared. More secure. – stems from the strategic analysis and value we provide clients which allows them to protect and strengthen their businesses, their employees, and their families. We help anticipate and prepare for future challenges, opportunities, and growth. We help people be better prepared today so they're more secure tomorrow. And we do this through risk management and insurance, health benefits, and financial management.
While our brand has a new look, our dedication to our clients and our team stays the same. We are proud to be celebrating our 90th year of serving clients and our 25th year as an employee stock ownership plan (ESOP). Our employees have a vested interest in our company's success, and we work together in shaping the growth of this company.
In 2015, we worked as a team to establish core values that embodied our culture. These values will continue to stand as the benchmark by which we conduct ourselves moving forward:
Build Trust– It doesn't happen automatically. You earn it by being genuine – by telling the truth when it might be easier not to. You keep it by honoring your commitments and following through every time – all the time.
Create Opportunity– Exploration, learning, and growth don't happen without the space to do it in. Take a chance – find a new way for a client, help a co-worker succeed, stretch yourself, and take your career to a whole new level.
Cultivate Community– It's our responsibility to improve the places where we live, work, and play – but we can't do it alone. Make genuine connections. Be a positive influence and have fun along the way.
Seek Balance– Home life – work life – dog life – whatever you care about life! It might be a balancing act, but it makes a happier person who can relate to the things we all juggle every day.
Celebrate Diversity– We love that we're all unique! Sit in the back if you want, or be the leader of the pack. Each new perspective brings its own approach to conquering the challenges we face every day and makes us that much better, together.
Take Ownership– It's our company. We're accountable for our own outcomes. Champion safety – safeguard your health – protect our clients – serve our community. Whatever it is, own it!
Each of our values has a role to play in our continuing story at Murray. They empower each of our employees to use their expertise to champion our clients' success in being better prepared for today's needs and more secure in tomorrow's opportunities. Though our focus has never wavered since our story began, taking a fresh look has given us a new perspective, helped simplify our brand, and has given us a great view of our future growth.