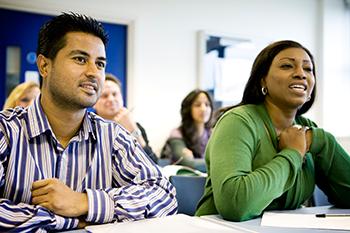 Companies of all sizes need to continually improve the performance and knowledge of employees at every level to maintain and achieve business goals. HR Solutions provides a unique service to your organization by tailoring training programs directly to your specific needs. These customized programs include elements and topics of your choice and are presented utilizing current adult learning techniques so your employees retain the information and tools provided by our skilled trainers. Program outlines and appropriate handouts are also given to participants.
Compliance Requirements
Understanding and Administering the Family Medical Leave Act (2 parts)
Making the Americans with Disabilities Act Understood (2 parts)
Sexual Harassment in the Workplace (2 parts)
Workplace Safety 101 HIPAA Compliance
Problem Employees
Progressive Discipline and Using it Effectively
How to Handle Challenging or Disruptive Employees
What Constitutes Grounds for Termination
The BEST Termination Process
How to Retain the BEST Employees
Communications
Effective Communications Skills
Killer Business Writing
Interviewing Techniques and Skills
Coping with Downsizing and Layoffs
Promoting Customer Service
ADA and Mediation
Networking for Success
Sales and CSR Development
Creating a Better Workplace
Recruiting Like a Headhunter
Managing Change
Motivation Skills for Manager Retention That Works
Workplace Violence – Prevention and Diffusion
HR Management Essentials
Training Customized for You
We provide training in all facets of employee and management development skills to give your employees the tools needed to progress in the 21st century.
If you do not see a specific training subject available here, please ask us about it. We customize programs to satisfy your company's specific training needs.